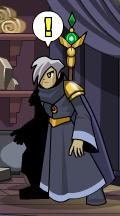 Warlic is a powerful spellcaster with gray hair and mysterious powers. So far, Warlic has been featured in all four major games made by Artix Entertainment. He is also the head of MechQuest in real life. Warlic in AQWorlds is notable for giving the "Hideous Tail" quest.
Warlic is seen wearing a Staff of Malachite on his back, and what appears to be a modified version of the Mage armor
Warlic is found in Battleon. To get to Warlic, journey to Battleon via the map travel button or type "/join battleon" in the chat box. From there go north to the town square. Warlic is in the building in the town square titled "Magic Shoppe" The shoppe however looks remarkably similar to his shop in AdventureQuest.

Warlic also appears to have a pet Flying Eyeball in his shop, similar to Flying Eyeballs seen in other Artix Entertainment games.
Ad blocker interference detected!
Wikia is a free-to-use site that makes money from advertising. We have a modified experience for viewers using ad blockers

Wikia is not accessible if you've made further modifications. Remove the custom ad blocker rule(s) and the page will load as expected.