Yulgar is on ground floor of BattleOn Ye Olde Inn.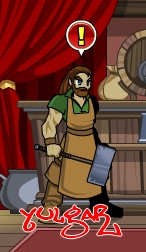 "Greetings Adventurer, and welcome to my Inn. Our town has sure been attracting a lot of visitors recently! If you find yourself in need of a place to stay while you visit, or are looking to purchase some new weapons or armor, then this is the place you want to be!"
-Weapon Shop
-Enhancements
-Upgrade Enhance
-Quests
Quests:
Porkon's Pride
Zorbak's Reward
Rats off To ya!
Ad blocker interference detected!
Wikia is a free-to-use site that makes money from advertising. We have a modified experience for viewers using ad blockers

Wikia is not accessible if you've made further modifications. Remove the custom ad blocker rule(s) and the page will load as expected.